You can take examinations for all classes and educations to demonstrate "certified" completion. All examinations comprise theoretical and practical exam components. The theoretical component comprises multiple choice exam questions tailored to the individual workshops. The practical elements of the examination are also clearly defined and must be performed. For each examination, there are clearly defined expectations.
The "Certified Coffeologist" and "Master Coffeologist" certifications have been introduced as further developments to our CoffeologistEducation. Both build upon the CoffeologistEducation, with the "Certified Coffeologist" representing the first advancement. For this certification, the coffeologist must provide proof of a further 100 credits (2 master classes (additional workshops)) in order to be eligible for the examination. Both the theoretical and practical exam components cover subjects from all workshops on the CoffeologistEducation and the two master classes. Following successful completion of this examination, participants can obtain an additional 300 credits (e.g. 6 additional workshops*) and can subsequently take an additional examination on the workshops selected as master classes for this purpose.
Master coffeologists are obliged to continuously further their education, otherwise the right to use this title expires. This requires 50 credits per year, which can be obtained by participating in coffeologist meetups, for example.
The following certificates can be obtained:
– Coffeologist
– Master Coffeologist
– Coffee Connoiseur
– Roaster
– Cup Taster Basic
– Cup Taster Professional
– Barista Basic
– Barista Professional
– Latte Art Professional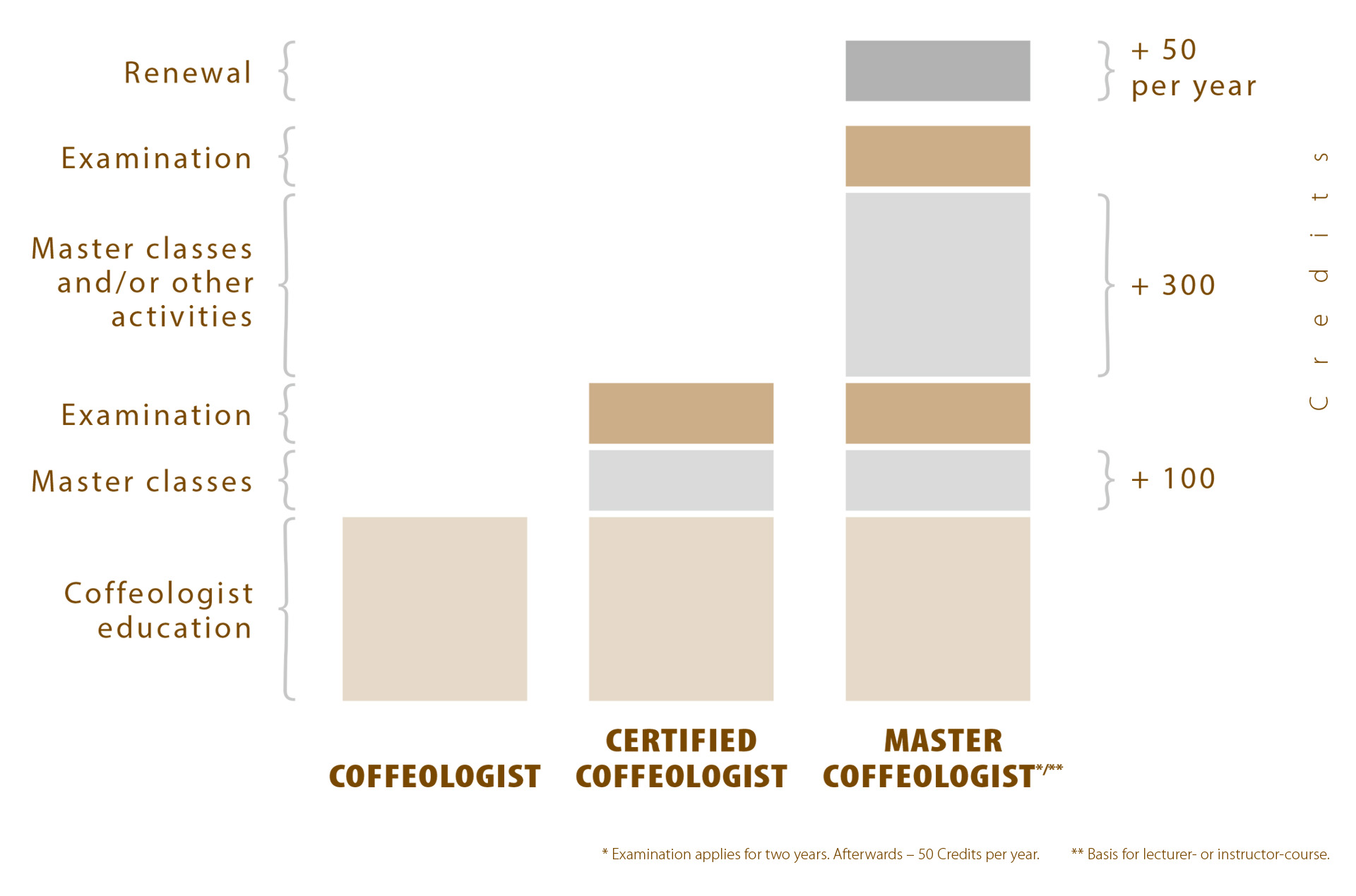 *Credits are also awarded for:

- Participating in the annual coffeologist meetup

- Participation in the CoffeeSymposium

- Visitation of a coffee plantation partner as part of a class trip

- Participation in Coffee Consulate online workshops